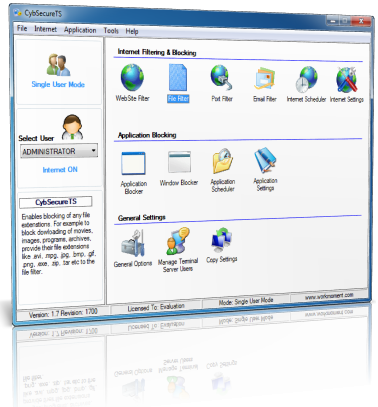 CybSecureTS supports all Windows Terminal Server versions including Windows 2003 Server & Windows 2008 Server. Supported workstations include Windows 7, Windows Vista & Windows XP, 64 & 32 bit versions.
CybSecureTS combines multiple techniques to provide powerful control over policies covering Internet Access. These features can be used individually or in a combined way to govern internet usage to increase productivity, reduce exposure to offensive material, and to prevent visits to sites that could compromise security.
CybSecureTS includes an email filter for SMTP and a POP3 Filtering which enforces email policies of your organization. The file filter of CybSecureTS guarantees bandwidth saving by blocking employees from downloading unwanted files. You may have to install the software only to a single location, that is your terminal server computer and CybSecureTS protects all thin clients from using the internet.
In addition to its strong web filtering capabilities, CybSecureTS application management functions will prevent the usage of any unnecessary applications on the computer, for instance games, P2P applications etc. The application blocking features of CybSecure includes an EXE Blocker and a Window Blocker. With the EXE Blocker and Window Blocker or using a combination of the two, it's virtually impossible for the end-user to bypass the blocking.
Key Benefits
Key Features
Supports all Windows Terminal Servers
Web filter, Port Blocking, Email Filter, Whitelist, Blacklist
Supports standalone workstations.
Optimized for faster performance
Secure online purchase
High security and stealth features
Supports Thin-Client environments
Maintains User Access Permissions
Install only to a single location in TS envirionment
EXE blocking and Window Blocking
Centralized Management in Server envirionment
Internet Scheduler, EXE Scheduler and Window Scheduler.
Supports Windows 2000, 2003 and 2008 Servers
Daily, Weekly or Monthly Web Scheduler.
Supports 64-bit & 32-bit browsers and OS
Works with IE, Firefox, Mozilla, Chrome and all other browsers.
CybSecureTS can help organizations to safeguard employee internet misuse by blocking internet access to browsers, instant messengers etc. CybSecure blocks access to illegal file downloads and it also provides you increased protection with its EXE and Window Blocker which will prevent the usage of such mis-usable software. CybSecureTS has maintained high levels of multiple security standards to ensure maximum protection against organizational policy offenders. This makes CybSecure very reliable to use software in multi-user environments.