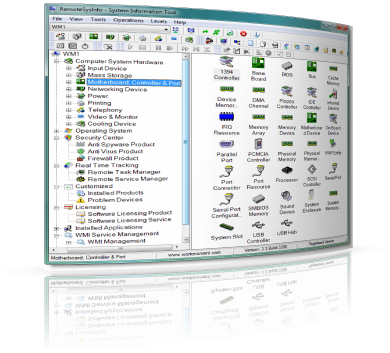 The hardware information report categories includes Input Devices, Mass Storage Devices, Motherboard, Controllers, Ports, Networking Devices, Power Devices, Printing Devices, Telephony, Video & Monitor and Cooling Device.
Software information include the Drivers, COM, Desktop Information, File System Information, Memory and Page Files, Multimedia Related Information, Network Drivers, Detailed Operating System Settings Information, Processes, Threads, Registry, Services, Shares, Start Menu, Event Log, Windows Product Information, list of Installed Software Products etc.
You can view the System Summary of a computer, which reports the general profile of the computer of your choice.
RemoteSysInfo supports a wide range of Windows versions from the old Windows 9x to the latest Windows Vista & Windows 7. It supports 32-bit and 64 bit versions of Windows operating systems.
With RemoteSysInfo you can export the detailed report that you view and save to a file and take a print out of it for later references for system auditing & system diagnostics purposes.
RemoteSysInfo works with all versions of Windows. RemoteSysInfo works on Workstations, Laptops & Servers. It is location independent. It works in LAN, WAN, Mobile and remote users behind NAT and Firewalls. It is robust, reliable & comprehensive. It is recommended for all users who wish to know more about their computer internals. It's a MUST tool for network administrators and hardware engineers.